Posted by Cuckoo Nest Art Studio on May 19th 2017

As apple managed to seriously hit the market of smart watches with the Apple Watch, more and more people became actively interested in it. This is something which sparked the interest of the consumer. However, it wasn't long before people started to realize that the traditional rubber bands were rather, well, out of style, to say the least.
A custom band might be the thing you are looking for.
Purchasing a regular Apple Watch is undoubtedly something that comes with tremendous amounts of benefits. The watch itself is arguably the best one on the market and this is something that you need to take into account. However, there are things that you have to consider additionally. For example, the band might not fit you. While Apple has gone the extra mile in creating a range of colorful options, the rubber bands might not be fit for your hand. This is something that could ruin your day.
A custom band, with this in mind, is something which is crafted and tailored, literally, to fit your wrist perfectly.
And, with years of experience on the market, we are here to make sure that everything is handled as per the highest industry standards. Cuckoo Nest Art Studio wants to make sure that your Apple watch is resting flawlessly on your hand. In order to do so, we are going to go the extra mile and tailor a band which is nothing like you've ever seen before.
Uniqueness beyond comprehension
One of the things which are going to make our bands flawless is the superiority of our professionals. With years of experience, a spark for creating particularly artisan items and design like you've never seen before, you are guaranteed to get a one of a kind product which is nothing short of excellence.
Different Types
When it comes to our leather Apple watch bands there is one phrase which is absolutely spot on – the sky is the limit! There are quite a few different distinctive styles that we can employ in order to create something which is never before seen! This is definitely something that you want to account for.
Apple Watches are awesome because they are unique. However, having the same band as another couple of thousand people is definitely something which steals the magic away. This is where we come into the picture. Our bands range in color – you can get black, distressed brown, white or burnt-out ones, pretty much everything is possible.
Retail bands VS. Cuckoo Nest Bands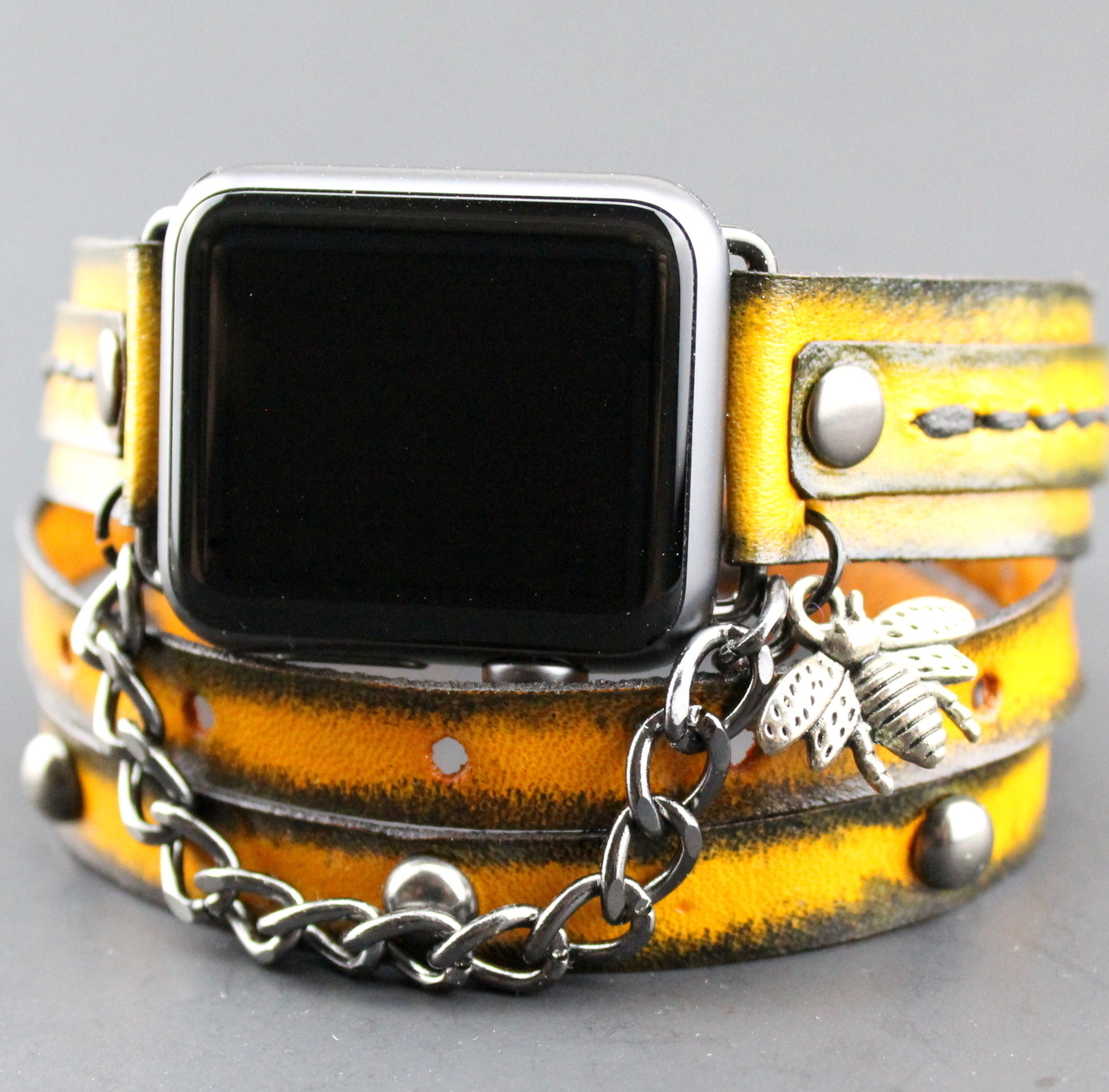 Now, it's true that you can go online and find a range of bands which are also seemingly custom. However, with us, you will experience the entire thing. You can witness the way your band is created from scratch in order to be sure that everything is handmade and appropriate.
We won't source the work to China like the majority of manufacturers out there. We put the personal into the production of our bands as this is something particularly important.
Why does this matter? Well, do you want to have something which is specifically made for you? Do you want to know that you are the sole owner of something that absolutely no one else in the world has? Do you want to know that no one else can ever have that one thing? Once we make your band, it can't be replicated. It can't be copied or re-done. That's it – you own it and there is nothing that's going to come close to it.
This is why you want to go with Cuckoo Nest bands. We are going to ensure that we take your own personal preference. We like working with friends and that's what we hope to achieve with you. We want to connect with our customers in order to ensure that their preferences and requirements are thoroughly taken into account.
You can also customize your apple watch band the way you feel like. You can choose the size, color, material and pretty much everything that you can think of. Don't be just a part of the main stream. Take advantage of these highly personalized Apple Watch bands and be unique!