Posted by Cuckoo Nest Art Studio on Dec 18th 2017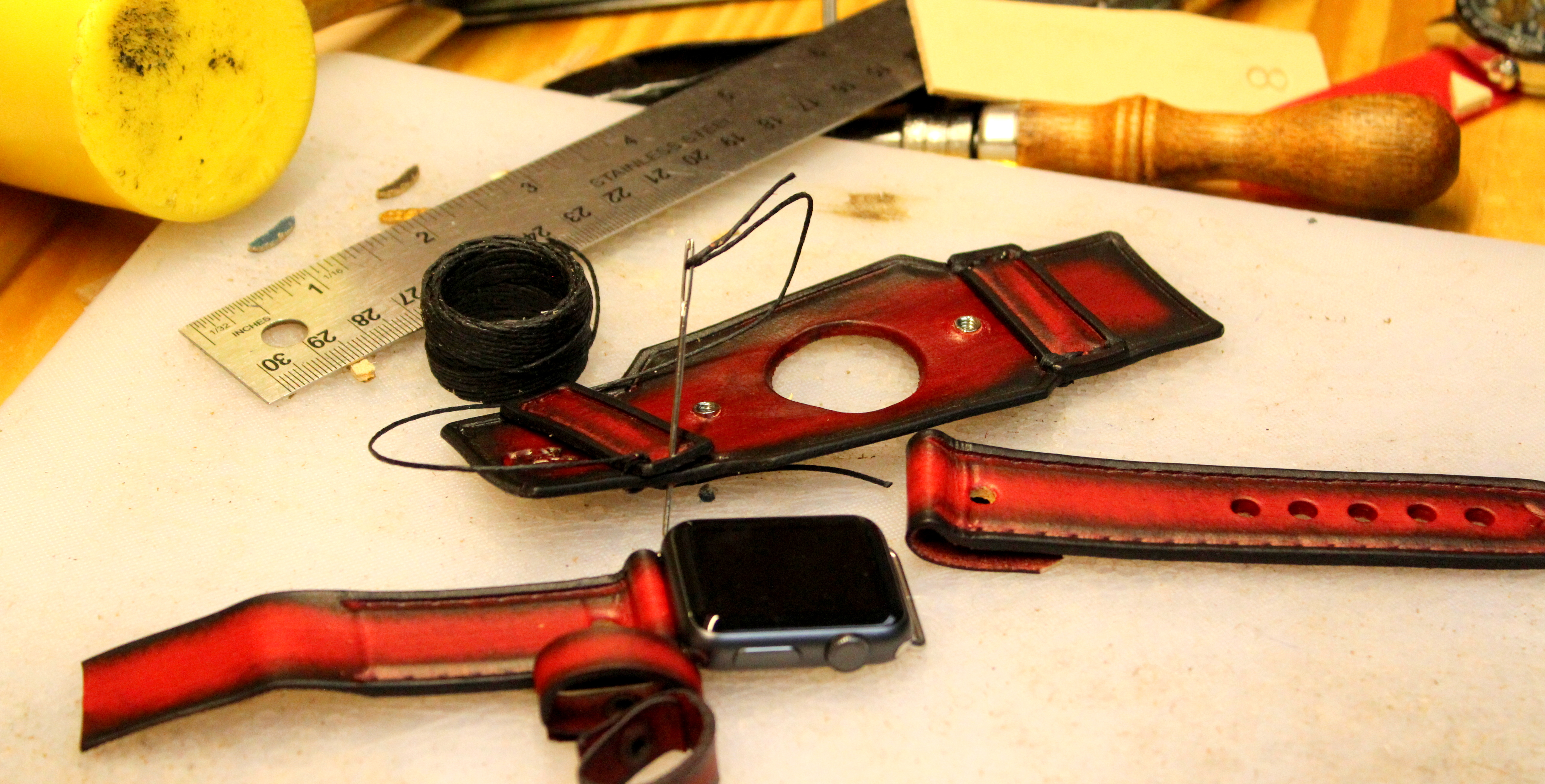 Now that you have decided to order your very own handmade watch band from Cuckoo Nest, we're here to help you through the steps. The ordering process isn't complicated, but it's important that you take your time in taking measurements and choosing the details, such as the buckles type and stitching. If you have any questions, you're welcome to email us before or after placing your order.
Step 1: Measure Your Wrist
It's important to measure your wrist to ensure that your watch band fits you perfectly. Every band is made to order, and the proper wrist sizing ensures that it's the perfect size for you. To measure your wrist, you need a flexible tape measure. You'll want to measure around your wrist bone and get the exact size in inches. It's important not to round up, because we will make allowances for breathing room when we create the watch band. The length of the band itself will be greater than the size of your wrist, too. If you order a wrap watch, then you can skip this step, because those are made to fit all wrist sizes.
Step 2: Measure the Watch Face
Your watch band must fit the face of your watch. Each watch face is unique, which is why we need the exact measurements from you to create the watch band for it. We'll need the total width and height of your watch face. We also need to know the distance between the attachments that stick out from the watch. Finally, we need to know the distance between the top of the watch face and the highest point of the watch.
We labeled these measurements A, B, C, and D. The image to the right is an illustration to help you figure out what we mean. If you need help with this step or have an unusual watch face, feel free to contact us for clarification.
Step 3: Choose Buckle and Screw Type
Some watch bands have a buckle and one or more screws. These are both functional and part of the watch design, which is why we let you choose them. You'll have the option of nickel silver or gunmetal. Both options are high-quality parts, and it's often just a personal preference of which one you like best.
Step 4: Choose Stitching
We hand-stitch our custom watch bands. The stitching is usually done along the length of your watch band, but depending on the design, there may also be stitching by the buckle. The color of the stitching can make a big difference to the final design of the watch. When the leather is dyed a certain color, you'll want to use the stitching to complement or contrast the leather band. Here are our color options for stitching:
White
Black
Grey
Brown
Olive green
Purple
Orange
If you're not sure what color stitching will work best, you can always browse our site for examples. Many of our watch bands use the color of the stitching to create a stark contrast to the leather, which will make the band eye-catching.
Step 5: Decide on Additional Decoration Rivets
Our watches come with many different decorative rivets. These add uniqueness to your watch. When you browse our site, you can see examples of different watch styles where rivets are important to the overall design. These rivets aren't always silver, either. We have used light blue, brass, and other colors successfully to create beautiful, unique bands.
When you're ordering your custom watch band, you are encouraged to send us an email if you want additional customization. You can also send us a picture of your watch if you're not sure whether the face will fit our custom band.
Turnaround Time
Since we make every watch band after you complete your order, it takes about 10 to 15 business days until your item gets shipped. We may not get started on your watch right away if you're still clarifying the details with us via email. Once the order ships, we will notify you with the details. We ship everything first class with USPS inside the continental USA. All orders are shipped from Florida.
Express Made-to-Order Options
Maybe you want a custom watch band, but you just don't want to wait for it. We have great news for you! We have a handful of items that are usually ready for shipment within 5 business days of placing your order. These express made-to-order watch bands are still handmade by Cuckoo's Nest with the same care as every other product we offer.