Posted by Cuckoo Nest Art Studio on Oct 16th 2017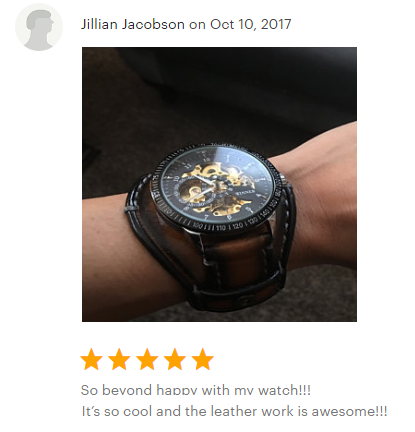 Steampunk watches are popular for many reasons. First, they're a timeless classic much like our leather watch cuffs. Second, they look great on men and women. Finally, you'll be sporting a unique watch and watch band, making you the envy of your friends and acquaintances everywhere.
Steampunk Watches – A Timeless Classic
Steampunk is a subgenre of science fiction or science fantasy. It combines technology and beautiful designs. The inspiration for steampunk products comes from 19th century industrial steam-powered machinery. In that way, steampunk watches are old-fashioned, classic, and they also have a touch of the modern with the reference to technology.
Steampunk watches can make a great personal fashion statement. That's because they look good and are chic at the same time. Steampunk watches are mechanical. Sometimes, the gears are visible and part of the design of the watch itself. Other times, the watch itself has an antique brass look that gives it the nostalgic feeling of having lived another life before this one.
Steampunk watches can come in a variety of colors for both the watch face and the watch band. Every one of our bands is handmade, which ensures that your steampunk watch is as unique as can be.
Stylish for Men
When it comes to steampunk watches, they are both masculine and creative. You can choose the style of watch band that's right for you, ranging from creative leather cuff bands to simple strap designs. You may like the burnt leather look, because it gives your watch an aged feel and adds an extra touch to a steampunk watch. Every watch band can be customized to fit any shape, which makes it completely unique.
Many steampunk watches are wider, which looks good on a leather cuff band. You can choose different color bands, whether you like light brown hues or traditional dark brown tones. We have colorful bands available as well to create a stunning contrast for your steampunk watch.
Fashionable for Women
Steampunk watches can look good on women, too. There are many different watch bands available, allowing you to choose from simple styles to brightly colored designs. For example, you may like a watch band that has a wrap-style, allowing you to loop the straps around your wrist several times. This makes the watch look like jewelry, because the wrap-style has a bracelet effect.
Steampunk watches also look good with a simple, one-strap design. But whether you like bright colors or more traditional brown shades, you'll find a watch band to match your steampunk watch. Some watch bands also come with charms to add more style to your watch, making you the envy of your friends.

Matching Your Steampunk Watch to Your Watch Band
There are lots of options for both steampunk watches and watch bands. You can use colors to contrast the watch and the watch band. For example, a colorful watch band will make your steampunk watch face stand out. For example, you can look at our black and yellow steampunk watch to see how color contrasting makes a difference.
A leather watch band is subtler, but just as timeless as the steampunk watch. Regardless of which kinds you choose, you're bound to attract notice with your unique watch.
Caring for Your Steampunk Watch
Fortunately, it's easy to care for your steampunk watch as long as you remember this one rule: your watch doesn't like soap or water. The same is true for your watch band. Otherwise, it's okay to wear your watch all day long, but it's best if you give the watch band some time to breathe at night. You don't really need to know what time it is while you're sleeping anyway.
For a leather cuff watch, you can take the steampunk watch off for cleaning. All you need is a little bit of leather conditioner or wax if the leather starts to look dry. Here you'll find more detailed instructions on caring for your watch band.
Testimonials for Steampunk Watches
At Cuckoo Nest, we pride ourselves in making great steampunk watches, but you don't have to take our word for it. Our customers love the steampunk watches they buy from us. That's because our leather work is simply awesome.
But it's not just about making a great product. We also take customer service seriously. This customer loved the unique watch we send them, but they also appreciated getting their product on time.
Are you ready for your own steampunk watch? Browse our selection and find the one that's right for you!