Posted by Cuckoo Nest Art Studio on Nov 13th 2017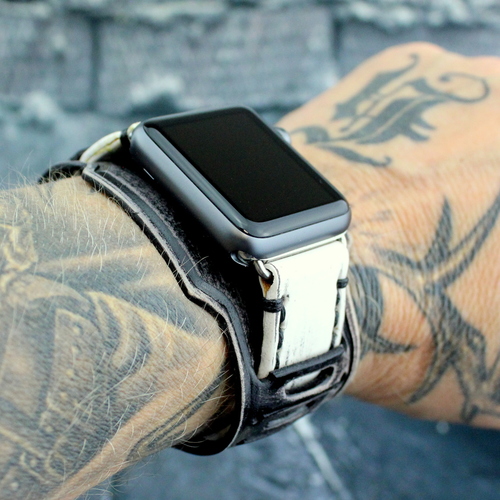 We are proud to present our collection of new watch bands: THROTTLE2. We have extensively tested these watches for functionality to ensure you're getting an amazing product. We have already received a lot of pre-orders before we officially listed them on our website. It's not surprising that they are already so popular, because they have a unique design you won't find anywhere else. Now you can order one of these beautiful watch bands yourself.
The THROTTLE2 Design
THROTTLE2 watch bands are uniquely designed. The watch bands are of similar width as the original THROTTLE cuffs, but instead of using rivets, the design includes hand stitching all around. The cuff comes with an inner and outer leather band. The outer band can be seen along the sides and visibly in the front next to the face of the watch. It also holds the inner band in with several straps across the width of the watch band.
Custom Made
This new collection was designed with Apple watches in mind. It includes the hole for the heart monitor and is made to fit your Apple watch specifications. When you order your watch band, you can choose the adapter that fits your watch. We can also make this watch band for your regular watch without the hole for the heart monitor.
The leather cuff is two inches wide on each of these watches. The length of the cuff will vary based on your wrist size. It's important to measure your wrist before placing an order to ensure a proper fit. Each of our THROTTLE2 watch bands complements your latest Apple watch. These bands can fit 38 or 42 mm Apple watches. The adapter for the watch also comes in different colors.

Made in Different Colors and Color Combinations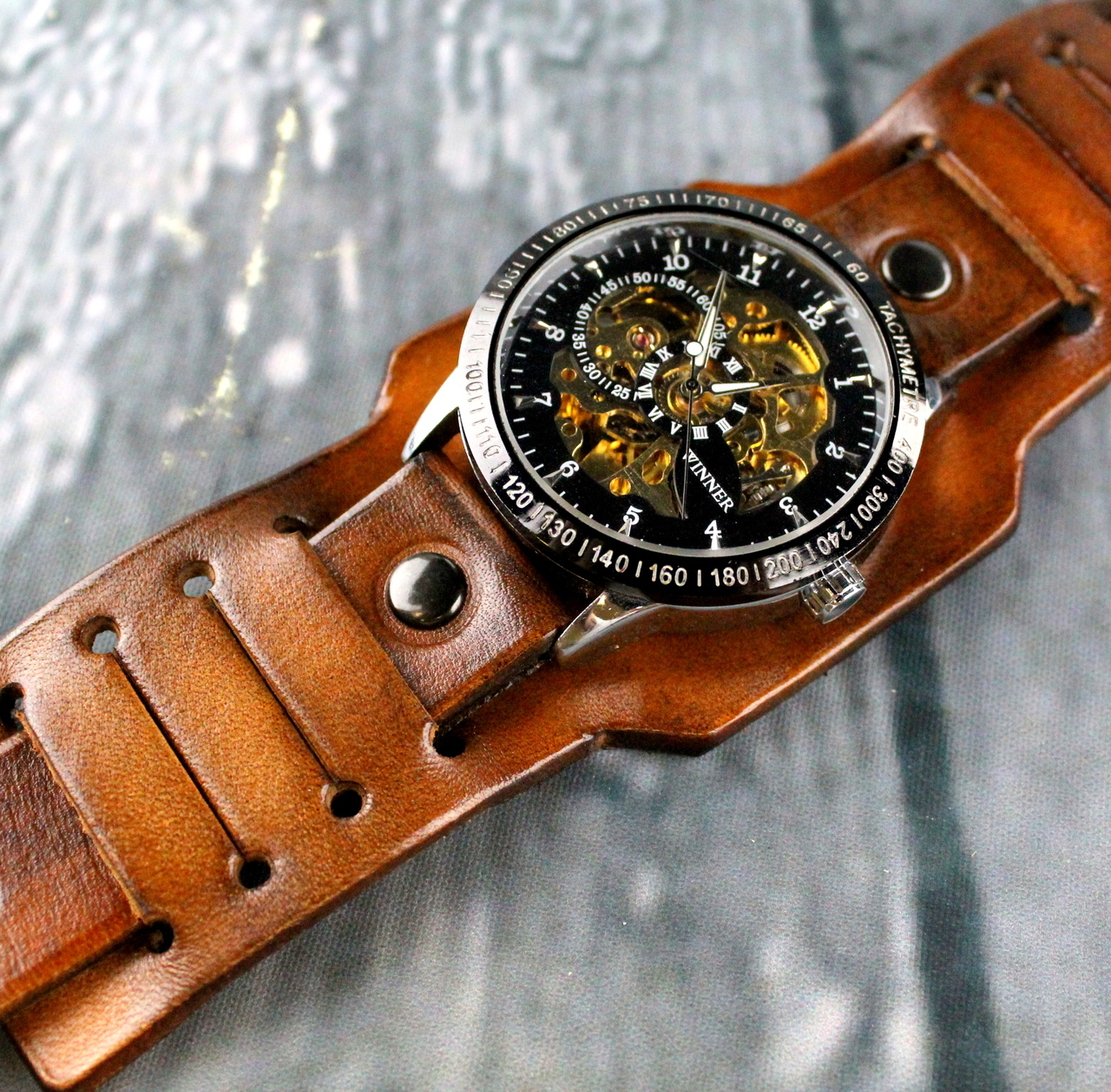 These watch bands come in a variety of colors and color combinations. Everyone can find something to fit their personality. For example, we have solid bands with one color, such as our distressed black leather watch strap and our aged brown leather cuff. You can also order color combinations. The denim blue leather band has a white inner leather band. There is also a yellow and black watch cuff sure to garner attention in a crowd.
You may notice that two of our THROTTLE2 watch cuffs are almost inverted versions of each other. We have a black and white Apple watch band sporting white leather on the inside and black leather on the outer band. The outer band comes with straps to hold the inner band in place giving this watch band its unique look. The white and black leather cuff shows the black leather as the inner band, which is held in place by the white leather.
Custom Made to Fit Your Wrist
Every THROTTLE2 watch band comes with a buckle and corresponding holes to adjust the fit on your wrist. The buckles are uniquely chosen to match the coloring and design of the watch band itself. There are several holes for adjustable sizing. This allows you to wear your watch loose on a hot day, but you can wear it tighter when it needs to fit under your shirt sleeve. We use your wrist size to ensure that the watch band is not too long or too short for you.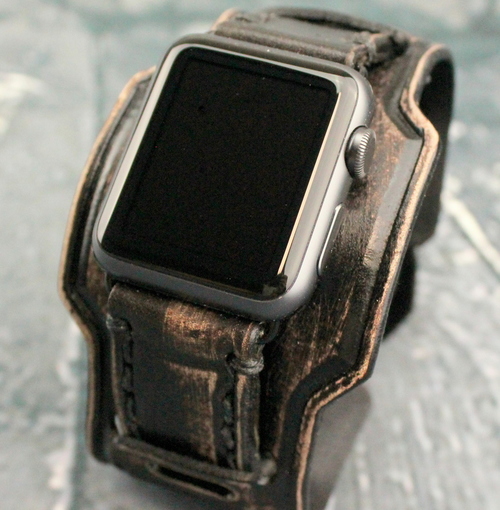 Each Watch Is Unique
These watch cuffs are handmade, which is why each of them is truly unique. The stitching on your watch is also done by hand, for which we use the color thread that best compliments your watch style. For example, the denim blue leather watch has natural blue thread, whereas our black and white leather cuff watch use black thread. The THROTTLE2 watch bands have a slightly worn look. This makes them a stylish accessory for any occasion. We achieve this look by using distressed leather for the bands.
If you're looking for an elegant watch band, you'll find something in our new collection, too. For example, the leather watch cuff in aged brown comes with timeless steampunk watch face. This watch looks good in any setting, whether you're working on a farm or sitting in a business meeting.
Order Your THROTTLE2 Watch Band Today!
You can be one of the first people to own a THROTTLE2 watch band by ordering it today. These watch bands also make great Christmas gifts, especially if you're looking for something unique and stylish. Nothing says "I care" more than a handmade present, especially if it's coming from our leather artists.