If you've watched a science fiction film or ever attended a cosplay convention, chances are you've encountered the steampunk genre. While steampunk started out as a subgenre in science fiction stories that clashed the present with the past in a unique way, it has taken on a life of its own in fashion, art, and design. Countless people each year dress up in steampunk-inspired outfits or don a steampunk watch to add a bit of intrigue to their outfit. But how exactly did steampunk come about, and what does steampunk fashion look like? We'll go over everything you need to know about the history of steampunk from its origins to its influence on fashion.
What Is Steampunk?

Steampunk is a subgenre of science fiction that combines futuristic technology with designs based on 19th-century industrial steam-powered machinery. Steampunk is typically referred to as being retrofuturistic, which means that it blends old-fashioned styles with futuristic technology. This clash of the past and the present gives steampunk-inspired art and fashion a distinctive and almost anachronistic look that brims with fantasy.
Novels and films that embrace the steampunk genre usually exist in an alternative world where steam-powered machinery is still commonly used. Most of these works are usually set in the Victorian or Wild West eras, which commonly influence the aesthetic design of steampunk fashion and steampunk watches. Steampunk embraces the values such as etiquette, individualism, and exploration that defined these eras and motivated the characters in steampunk works.
The Origins of Steampunk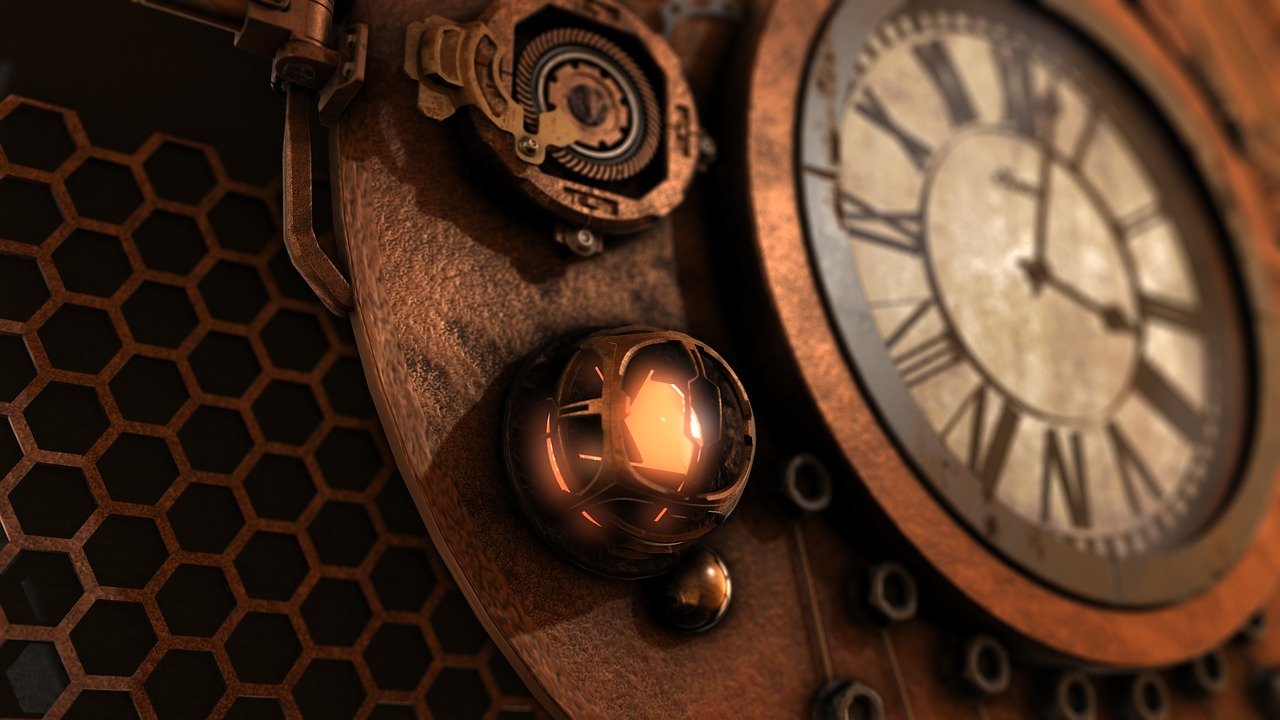 Although the word steampunk didn't officially come about until the late 1980s, steampunk is heavily influenced by 19th-century science fiction stories by authors such as Jules Verne or Mary Shelley. Stories such as Verne's Twenty Thousand Leagues Under the Sea are among the first to launch the steampunk genre, as the main character Nemo pilots a futuristic submarine at the bottom of the ocean surrounded by decadent Victorian artifacts such as paintings, home-made stun-guns, and a massive library of 12,000 books.
The term steampunk was officially coined by K. W. Jeter, a science fiction author who created it in the late 1980s as an alternative to the word cyberpunk. Jeter was looking for a word to capture the genre of works that took place in 19th-century Victorian settings and featured fantastical steam-powered technology. The fact that steampunk was coined decades after it first came into being is fitting for the unique blend of past and present that defines the genre.
Steampunk Fashion: Choose Your Persona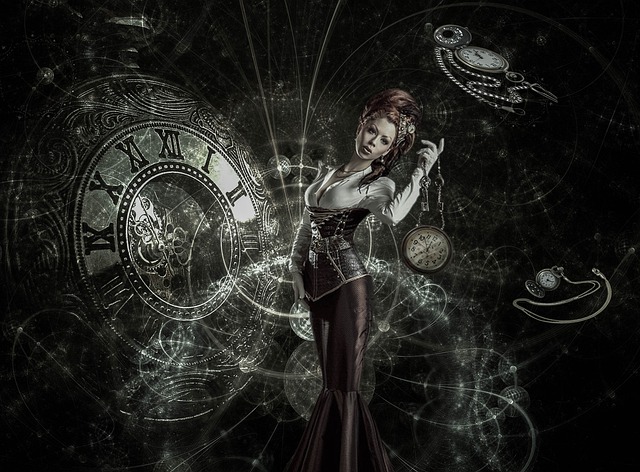 Most people are familiar with steampunk not through reading science fiction literature, but through seeing steampunk-inspired art, designs, and fashion. Steampunk fashion is usually designed in a post-apocalyptic way, with outfits typically featuring Victorian-style clothing and hairstyling with futuristic gadgets and fake weapons. Bustiers and bodices are commonly incorporated into female steampunk outfits, and in the early days of steampunk, most of these outfits had to be handmade. Now that steampunk has grown into a massive subculture of fashion and art, mass-produced steampunk clothing has become popular and much easier to find.
Steampunk fashion typically dabbles with several different personas that are common in steampunk literature, from the airship pirate to the adventurer. Airship pirates typically wear outfits with many clashing elements because they've "stolen" most of the pieces of their outfit during their pirating escapades. They may have gadgets such as goggles, compasses, or a steampunk watch to complement the outfit and the persona. Adventurers will wear outfits that are a bit more formal and put-together, with men wearing ties or cravats and women wearing bustles or corsets. Adventurers also typically complete the outfit with fake weapons, body armor, or a fancy steampunk watch.
While creating a persona is a popular thing to do in steampunk fashion, especially when attending a convention or cosplaying, it is by no means required. Many people find it intriguing to pretend to be a different person when dressing in steampunk, while others simply enjoy having an archetype to tie their outfit together and give it a cohesive theme. Newbies to steampunk fashion may find that having a specific "look" is a good place to start before branching off and putting their own unique spin on their design. Whether you dress up in a complete steampunk getup or you simply sport a steampunk watch or belt, you can enjoy the fantastical elements of the steampunk genre.
Steampunk Watches
Watches have always been in style regardless of what time period you're living in. From the classic steel wristwatch to a steampunk leather watch, watches come in a range of different styles that combine form and function. Steampunk watches have been a popular choice for many people because the combination of old-fashioned and futuristic-looking technology makes a steampunk watch quite eye-catching. If you're looking for a watch to make you stand apart from the rest of the crowd, a steampunk watch is an excellent option.
A steampunk watch can come in many different styles, from a manual mechanical watch to a steampunk leather watch. A steampunk leather cuff watch combines a handmade leather band with a futuristic-looking watch face that gives it that signature anachronistic steampunk look. The combination of the full grain leather strap, crystal glass, and retrofuturistic looking dial make a steampunk leather watch stand out on your wrist. Many watch companies have embraced steampunk fashion by designing a collection of steampunk watches, which shows just how widespread steampunk fashion has become.
Whether you're gearing up for a cosplay convention or you're just looking for a steampunk watch that will help you catch people's eyes, steampunk fashion can a fun way to add an element of Victorian fantasy to your day. The elegance and vintage aesthetic of a steampunk leather watch can instantly elevate your style and add a unique flair to your look. And if you're trying to dress up as the dastardly airship pirate or admirable adventurer, no steampunk look would be complete without an authentic steampunk watch.